NEW! PRICKLY PEAR MARGARITA
Ignite your senses with Sauza Gold Tequila shaken with Cointreau, Desert Pear mix and fresh lime juice The name may say prickly,
but it goes down smooth.
BLOOD ORANGE COSMO
A delicious twist on a classic cocktail - Sky Blood Orange Vodka, fresh lime juice, agave nectar and cranberry.
NEW! HIGH SEAS MOJITO
A delicious blend of Sailor Jerry Spiced Rum, house tiki mix, fresh mint and fresh lime juice topped off with ginger beer for a little extra spice.
NEW! STRAWBERRY FIELDS REFRESHER
A refreshing mix of Hendrick's Gin, vanilla, strawberry and fresh lemon sour topped off
with Maschio Prosecco.
NEW! GRAND PATRON MARGARITA
From the heart of the blue agave plant comes this awesome mix of Patrón Silver, Patrón Citrónge, Grand Marnier and fresh house margarita mix.
NEW! FIRE & ICE
This "rockstar" is shaken with Fireball Cinnamon Whisky, Firefly Sweet Tea Vodka, fresh lemon sour and iced tea.
NEW! BOURBON PEACH SMASH
A whiskey favorite with Jim Beam Whiskey, Peach Schnapps, peach purée, fresh mint and fresh lemon sour topped off with Blue Moon Beer.
NEW! DEEP EDDY'S MOSCOW MULE
This trendy cocktail features Deep Eddy Vodka, fresh lime juice and ginger beer served in the traditional copper mug.
FROZEN DRINKS
Non-alcoholic
UNO® RASPBERRY LIME RICKEY
With freshly squeezed limes.
CHOCOLATE COOKIE FREEZER
Oreo® cookies and ice cream.
WILDBERRY MANGO SMOOTHIE
Berries, mango and frozen yogurt.
STRAWBERRY SMOOTHIE
Mixed with frozen yogurt.
UNO® COLADA
All the taste of a piña colada, none of the alcohol.
CHOCOLATE MONKEY
Chocolate, banana and frozen yogurt.
TROPICAL FRUIT FREEZER
Pineapple, strawberry, banana and coconut.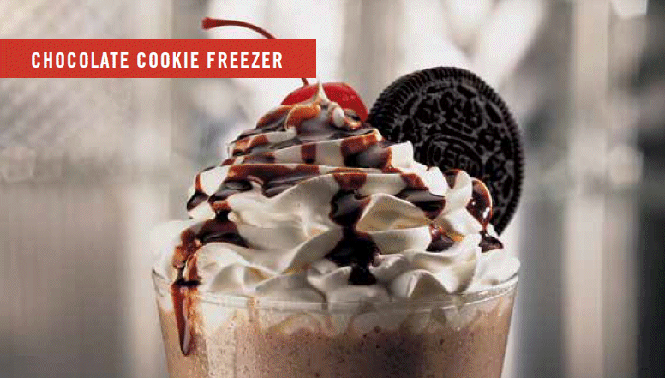 Beverages
Free Refills with all coffee, tea, lemonade and soft drinks.
FRESHLY BREWED ICED TEA
Traditional, raspberry, mango or mint.
FRESH LEMONADE
Classic, raspberry, mango or half & half
BOTTLED WATER
Spring or sparkling.
ENERGY
Red Bull or Red Bull Sugarfree.
SOFT DRINKS
Pepsi®, Diet Pepsi®, Mountain Dew®, Sierra Mist® Caffiene Free MUG Root Beer®
TARRAZÚ ESTATE BLEND COFFEE
Shade grown Costa Rican coffee from Hacienda La Minita.