SKINNY BLOOD ORANGE COSMO
149 calories
Skyy Blood Orange Vodka, freshly squeezed limes, agave nectar and Ocean Spray® cranberry.
COSMO
Skyy Vodka, Cointreau, Ocean Spray® Cranberry and lime juice.
FRESH LEMON DROP MARTINI
Absolut Citron, Cointreau and fresh lemon sour.
MINT MOJITO
Don Q Mojito Rum, freshly squeezed limes and fresh mint leaves.
THE UNO® BLOODY MARY
Grey Goose, V8 juice and our unique Uno spice blend.
RASPBERRY COLADA
Raspberry, coconut and pineapple juices blended with Captain Morgan Spiced Rum.
TOWERING ICED TEA
Tanqueray Gin, Absolut Vodka, Sauza Gold Tequila and Bacardi Limón Rum topped with cola.
WINDY CITY HURRICANE
Southern Comfort, Bacardi Superior Rum, Myers's Dark Rum, orange and pineapple.
UNO® SOUTHSIDE LEMONADE
Hendrick's Gin, Uno fresh lemonade, fresh cucumber, fresh mint leaves and a spritz of sweet soda.
WILDBERRY LEMONADE
Stoli Razberi, Stoli Blueberi with a purée of wildberries and lemonade.
SKINNY MARGARITA
180 calories
Sauza Gold Tequila, agave nectar and freshly squeezed limes.
ULTIMATE MARGARITA
Sauza Gold, Cointreau and fresh lemon sour.
FROZEN SANG-A-RITA
Uno red sangria blended with Sauza Gold Tequila, agave and mango syrup.
POMEGRANATE MARGARITA
Pomegranate, Patrón Silver, Patrón Citrónge and lime.
Non-Alcoholic Frozen
UNO® RASPBERRY LIME RICKEY
With freshly squeezed limes.
CHOCOLATE COOKIE FREEZER
Oreo® cookies and ice cream.
WILDBERRY MANGO SMOOTHIE
Everything berry, mango and frozen yogurt.
STRAWBERRY SMOOTHIE
Mixed with frozen yogurt.
UNO® COLADA
All the taste of a piña colada, none of the alcohol.
CHOCOLATE MONKEY
Chocolate, banana and frozen yogurt.
TROPICAL FRUIT FREEZER
Pineapple, strawberry, banana and coconut.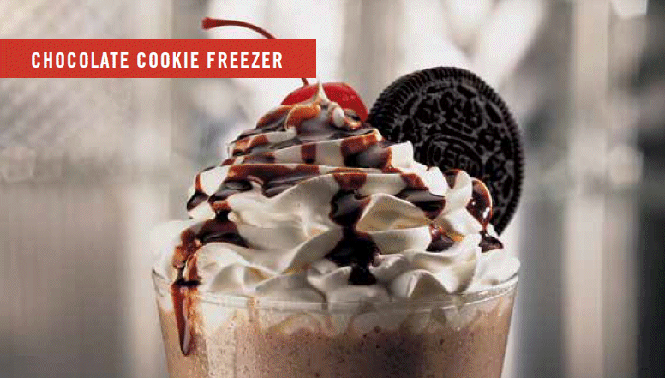 Beverages
Free Refills with all coffee, tea, lemonade and soft drinks.
FRESHLY BREWED ICED TEA
Traditional, raspberry, mango or mint.
BOTTLED WATER
Spring or sparkling.
ENERGY
Red Bull or Red Bull Sugarfree.
FRESH LEMONADE
Classic, raspberry, mango or half & half
SOFT DRINKS
Pepsi®, Diet Pepsi®, Pepsi Max®, Sierra Mist®, Diet Sierra Mist® Caffiene Free MUG Root Beer®, Mountain Dew®
HARNEY & SONS PREMIUM TEA
TARRAZÚ ESTATE BLEND COFFEE
Shade grown Costa Rican coffee from Hacienda La Minita.