As Uno Chicago Grill continues to demonstrate why we are "Best in Class" we welcome the addition of motivated people who are ready to take the journey with us.

If you're ready to move ahead with a dynamic national chain, team up with Uno today. Each restaurant has a Team made up of a General Manager, Assistant General Manager, and 1 - 3 Managers. In building this team, Uno works hard to offer the right mix to meet career aspirations, training opportunities, work/family considerations, and pay & benefits expectations.


You can have fun and take pride in providing an enjoyable dining experience to our expanding customer base and in building a solid career and hefty paycheck!


Based in Boston, UNO Restaurants, LLC operates a continuously expanding system of full-service, company-owned and franchised UNO Chicago Grill restaurants. Our great steaks, seafood and other casual dining favorites - along with the signature Chicago-style Deep Dish Pizza we invented back in 1943 - are currently enjoyed by satisfied customers in 24 states, the District of Columbia, and Puerto Rico. From enhancing hospitality to developing a new and improved menu that captures our competitive market, we have evolved into one of the best trend setting casual themed restaurants out there!


National Frozen Food Manufacturer
Uno Foods began in the basement of one of our Boston restaurants in 1988 and has grown into its present day establishment of producing 66,000 pizzas and related items per day.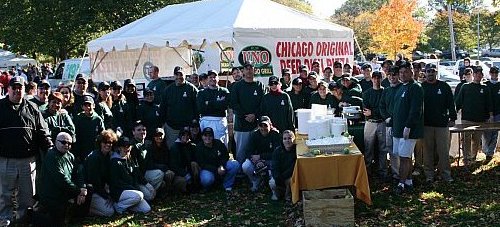 Greater Boston Walk for Autism Charity Cooking Event
Uno is proud to support the local communities it serves with our hugely popular Dough Rai$ers program and employee participation with local and national charities.