Uno invented Deep Dish Pizza in Chicago in 1943. Each pizza is made to order in a deep pan with fresh dough and filled with the very best ingredients. Extra fillings may be added from list below .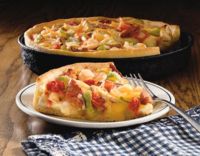 Individual: Serves 1
Regular: Serves 2-3


Cheese & Tomato


Chicago Classic
Extra mozzarella, extra sausage, extra tomato, extra crisp crust.


Numero Uno
Mozzarella, chunky tomato, sausage, pepperoni, mushrooms, onions & peppers.


Veggie
Mozzarella, chunky tomato, fresh mushrooms, onions and peppers.


Four Cheese
A mix of mozzarella, Romano, Muenster and feta cheeses with chunky tomato and basil pesto.


Portabella Chicken
Portabella mushrooms, roasted garlic and marinated chicken breast with Cheddar and mozzarella cheeses.


Chicken Fajita
Strips of marinated chicken breast with fresh salsa, peppers, onions and a blend of cheeses.


Prima Pepperoni
Premium pepperoni, lots of mozzarella, and delicious chunky tomato.


Spinoccoli
Fresh spinach and broccoli, a delicious blend of cheeses, our chunky tomato sauce and a touch of garlic.

Chef's Choice
You're the chef! Start with a Cheese & Tomato pizza and top it with any three of your favorite extras.
Fillings:
Eggplant, Broccoli, Marinated Artichoke Hearts, Peppers, Onions, Mushrooms, Black Olives, Extra Cheese, Roasted Red Peppers, Pesto, Sausage, Pepperoni, Anchovies