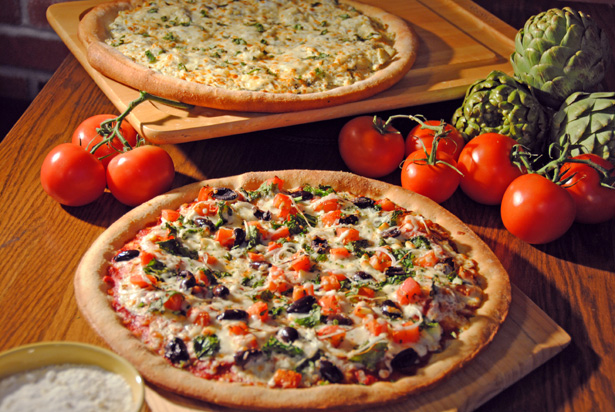 Uno launches new family size pizza for take-out
November 8, 2012
Boston, MA - November 8, 2012 - ANDREW ZIMMERN, CELEBRITY CHEF AND SERVICES FOR THE UNDERSERVED BOARD MEMBER, TO CREATE TWO LIMITED-TIME OFFER PIZZA FLAVORS
THROUGH PARTNERSHIP WITH SERVICES FOR THE UNDERSERVED, A PORTION OF THE PROCEEDS WILL BENEFIT VETERANS
Boston, MA - November 8, 2012 -- UNO Chicago Grill is introducing a new line of family size pizzas available for takeout only that will roll out in restaurants nationwide November 8. As part of this launch, UNO's has teamed up with Services for the UnderServed (SUS), a non-profit organization that provides direct support services to Veterans, and will donate 10 percent of each sale to SUS - giving a new meaning to "American Pie." Andrew Zimmern, SUS board member and celebrity chef, is lending his culinary expertise by creating two original pizza recipes available only for the family size take-out pizza.
UNO's has fashioned several topping choices for the new family size take-out pizza starting with a traditional cheese and tomato, pepperoni and their signature 'Build Your Own Pizza' feature, along with celebrity chef Andrew Zimmern's two custom recipes that include a Mediterranean style inspired by the Greek Isles and creamy Artichoke Bianco.
"After meeting Frank Guidara, learning that he was a veteran and of UNO's dedication to the military, I wanted to find a way where I could leverage my love of pizza to benefit our mutually-valued charity - SUS," said Andrew Zimmern. "I hope that by offering access to my unique recipes at UNO's, together we can raise enough money for SUS to continue to broaden their outreach and impact their capacity to meet the needs of those who serve."
Recently, SUS named Andrew Zimmern to its board of directors. Widely regarded as one of the most versatile and knowledgeable food personalities in the world, Andrew will give families nationwide a taste of the flavors he loves on pizza.
"UNO's is fortunate to have a partner in Andrew Zimmern who shares our passion for 'knock your socks off' flavor and for giving back to the community with Services for the UnderServed," added UNO's Chief Executive Officer, Frank Guidara. "We've made it our mission to support the men and women of the military and their families, both here and in Iraq and Afghanistan. I'm a Vietnam veteran, and I remember what the support of others meant to me during those years. We care, and we do what we can to show it."
SUS provides direct support services to Veterans of Iraq and Afghanistan and their families, many of whom were homeless and live with co-occurring chronic mental illness, substance abuse disorders and/or serious health conditions. The non-profit has tripled the number of Veterans it serves over the last two years and is providing more housing units and more homelessness prevention services than ever before through an innovative array of services. As a proud supporter of the military, Guidara and UNO's were eager to find a compelling way to bring heightened awareness to SUS.
"UNO's recognizes the moral imperative of giving something back to the men and women who have worn our uniform. Together we have the power to make an enormous difference in the lives of Veterans who came home after serving our country and then lost their way. Layer in a culinary genius such as Andrew Zimmern, and we are sure to make a difference," said Donna Colonna, Chief Executive Officer, SUS.
Entering its 70th year, UNO's continues to innovate and create artisan products that celebrate its Midwestern roots. For the past eight years, UNO's has shown support of active military, their families and military Veterans through partnerships with Pizzas 4 Patriots, Fisher House and SUS, as well as, regular outreach to local VA Hospitals and regular discounts and offers for military members.
About UNO's
Based in Boston, Massachusetts, Uno Restaurant Holdings Corporation includes 143 company-owned and franchised restaurants located in 24 states, the District of Columbia, Puerto Rico, South Korea, the United Arab Emirates, Honduras, Kuwait and Saudi Arabia. UNO's mission is to deliver intensely flavorful, delicious and nutritious food in an environment of heartfelt hospitality, and was named America's Healthiest Chain Restaurant by Health magazine. The Company also operates fast casual Uno Dué Go cafés, a quick service concept called Uno Express, and Uno Foods, a consumer packaged foods business which supplies airlines, movie theaters, hotels, airports, travel plazas, schools and supermarkets with both frozen and refrigerated private-label foods and UNO branded products. For more information, visit www.unos.com.
About Services for the UnderServed
SUS provides a complementary array of housing, employment, and wellness services and care coordination to Veterans and their families. Approximately 90 percent of the Veterans were homeless, and the majority live with mental illness, substance abuse disorders, and/or serious health conditions. Veterans served by SUS span the military branches, and from the Korean War through the Iraq and Afghanistan Wars. SUS partners with the U.S. Department of Labor and the U.S. Department of Veterans Affairs. For more information, visit Services for the UnderServed.
About Andrew Zimmern
A two-time James Beard Award-winning TV personality, chef, writer and teacher; Andrew Zimmern is widely regarded as one of the most versatile and knowledgeable personalities in the culinary world. As the creator, executive producer and host of Travel Channel's Bizarre Foods with Andrew Zimmern, Andrew Zimmern's Bizarre World and the latest, Bizarre Foods America, Andrew has explored cultures in more than 100 countries, shining the spotlight on effective ways to think about, create and live with food. His experiences tasting iconic dishes from every hemisphere has inspired his latest book, Andrew Zimmern's Field Guide to Exceptionally Weird, Wild, Wonderful Foods: An Intrepid Eater's Digest, a pop culture-influenced look at funny, fantastic-and occasionally bizarre-ingredients. In August 2012, he launched AZ Canteen, a national food truck company. Andrew Zimmern.