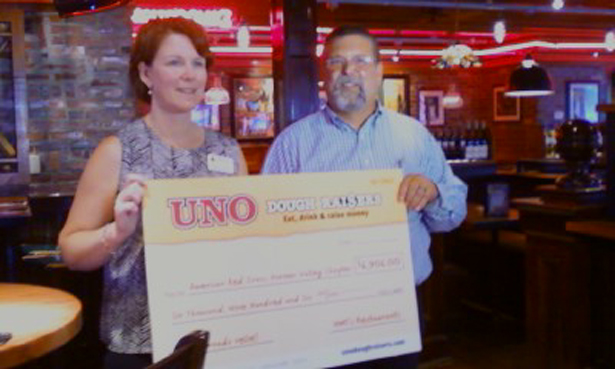 SPRINGFIELD UNO'S PRESENTS NEARLY $7,000 TO PIONEER VALLEY RED CROSS
July 29, 2011
10% of profits were collected over three days in June for tornado victims
BOSTON, MASS., July 29, 2011 - Boston-based Uno's, the casual dining restaurant with a focus on both indulgent and delicious and nutritious dining options, has presented a check of nearly $7,000 to the Pioneer Valley Red Cross, a donation collected through a portion of each customer bill in the days following the devastating tornadoes in western Massachusetts last month.
Uno's donated 10% of profits over three days in June for tornado victims in western Massachusetts and donated it to Pioneer Valley, the Red Cross chapter that supports the area with food, shelter and counseling.
"Our goal was to make it easy for people who wanted to help their neighbors," says Richard Dynes, regional director for Uno's. "We are proud of our patrons across New England who came together to support families who are still very much in need."
The donations were collected from 36 Uno's restaurants in Massachusetts, New Hampshire and Rhode Island from June 8-10. Uno's restaurants in Springfield and Sturbridge also helped with disaster relief by donating 280 pizzas that fed nearly 900 displaced people and local police and fire personnel working during the disaster.
The presentation ceremony took place on Friday, July 29, at the Uno's location on Boston Road in Springfield, the area most directly hit by the storms.
About Uno's
Based in Boston, Massachusetts, with 28 locations and approximately 1,700 employees within the state, Uno Restaurant Holdings Corporation includes over 150 company-owned and franchised restaurants located in 24 states, the District of Columbia, Puerto Rico, South Korea, the United Arab Emirates, Honduras, Kuwait and Saudi Arabia, and approximately 9,000 employees worldwide. UNO's mission is to deliver intensely flavorful, delicious and nutritious food in an environment of heartfelt hospitality, and was named America's Healthiest Chain Restaurant by Health magazine. The Company also operates a fast casual concept called Uno Dué Go, a quick service concept called Uno Express and a consumer packaged foods business which supplies airlines, movie theatres, hotels, airports, travel plazas, schools and supermarkets with both frozen and refrigerated private-label foods and Uno branded products. For more information, visit www.unos.com.
Back To Press Releases