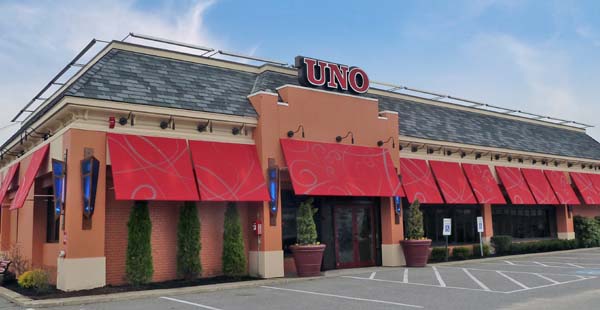 FRAMINGHAM UNO'S RESTAURANT GETS FACELIFT FOR 30th BIRTHDAY
April 21, 2011
After four weeks of renovations, the location reopens with a month-long birthday party
FRAMINGHAM, MASS., April 21, 2011 - To celebrate its 30th birthday, the Framingham location of Boston-based UNO (www.unos.com), the casual dining restaurant with a focus on both indulgent and delicious and nutritious dining options, opened its doors last night to a newly renovated interior with a 30-day celebration that features dessert giveaways, birthday cake and gift card drawings. The reopening took place on the exact day the restaurant opened in 1981.
The dramatic renovations were accomplished in a short four weeks and reflect Uno's new branding throughout the interior, enhancing the atmosphere of heartfelt hospitality for which the company is becoming famous. Customers will notice a lighter, brighter, more open environment in the restaurant and a new menu with more options that are a balance of delicious and nutritious.
"After 30 years in Framingham, we are delighted to have our guests walk through the doors and see this beautiful renovation," says Barry Hillerstrom, the Framingham location's managing partner. "Some of our customers have been coming to the restaurant since it opened, so it's exciting for them to experience this contemporary new look. The staff and I are all very excited about the great news tastes on our menu that highlight intensely flavorful, delicious and nutritious items, made from natural, fresh and carefully chosen ingredients."
During the renovation, the restaurant was completely overhauled. Most of the interior walls were removed for an open atmosphere with intimate clusters of booths and tables lit with warm, custom lighting. Most striking is the lounge area, with a floor to ceiling bar, the centerpiece of which is a large matrix flat screen television visible throughout the entire restaurant. There's a new color palette throughout the restaurant that adds a further level of contemporary comfort and style. Finally, a completely new and inviting lobby area features the hallmarks of Uno heartfelt hospitality: a warm welcoming smile, complimentary fresh apples and lemonade. Customers will also notice new menu items such as a broccoli, fig and goat cheese pizza with an all natural, five grain, thin crust, and new staff members serving alongside their favorites. As one of Massachusetts' busiest locations, the Framingham location needed to hire additional staff to keep up with the high volume of guests.
"Uno's has a long-term friendship with our Framingham guests, so it's only fitting to celebrate the restaurant's 30th birthday with a new face and a party," says Frank Guidara, chief executive officer of Uno's." The design captures the qualities that have made Uno so popular, adding another level of quality and style, which reinforces our commitment to preparing fabulous food and beverage for our many loyal customers. We can do an even better job taking care to help people treat themselves and treat themselves well."
The month-long birthday celebration will include passing out birthday cake on April 22, the first Friday night of the celebration, free desserts for guests turning 30 this year and those with birthdays on the 30th of any month and daily drawings for $30 Uno's gift cards. There will also be several opportunities for guests to join the birthday celebration through social media channels such as Facebook and Twitter.
ABOUT UNO
Based in Boston, Massachusetts, with 28 locations and approximately 1,700 employees within the state, Uno Restaurant Holdings Corporation includes 155 company-owned and franchised restaurants located in 24 states, the District of Columbia, Puerto Rico, South Korea, the United Arab Emirates, Honduras, Kuwait and Saudi Arabia, and approximately 9,000 employees worldwide. UNO's mission is to deliver intensely flavorful, delicious and nutritious food in an environment of heartfelt hospitality, and was named America's Healthiest Chain Restaurant by Health magazine. The Company also operates a fast casual concept called Uno Dué Go, a quick service concept called Uno Express and a consumer packaged foods business which supplies airlines, movie theatres, hotels, airports, travel plazas, schools and supermarkets with both frozen and refrigerated private-label foods and Uno branded products. For more information, visit www.unos.com.
Back To Press Releases
More Photos