The best just got better. Introducing our Nuovo Deep Dish creations. With bold combinations of flavorful toppings, these are the best thing to happen to Deep Dish Pizza since we invented it over 70 years ago.

Available in nine-grain* or traditional crust.
Individual - (serves 1) | Regular - (serves 2-3) | Large - (serves 3-4)
Italiano
Italian sausage, roated vegetables and chunky tomato sauce topped with mozzarella, ricotta and fresh basil.
Roasted Vegetable Bianco
Roasted vegetables, roasted cherry tomatoes and spinach topped with fresh mozzarella, ricotta and fresh basil.
Mediterranean Vegetable
Roasted eggplant, plum tomatoes, red onion, fontina and mozzarella topped with fresh spinach, kalamata olives, feta and balsamic vinaigrette.
Chicken Spinaci
Chicken, spinach, artichoke and caramelized onions topped with feta and mozzarella.
* 9-grain includes rye, corn, grits, brown rice, oat flakes, triticale flakes, soy grits, flas seed, millet & barley.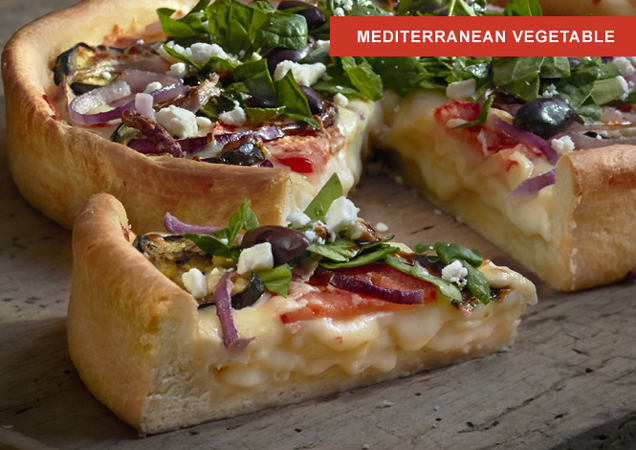 New handcrafted Artisan Crust pizza is here. A masterful mix of crispy,
mouthwatering crusts and rich, flavorful toppings, these edible masterpieces are the latest additions to our must-try pies.
Prosciutto Arugula
Prosciutto and roasted red peppers topped with aged white cheddar, mozzarella, parmesan and arugula, drizzled with balsamic glaze.
Napoli
Sausage and all-natural, house-made marinara topped with ricotta and fresh basil.
Chicken Verde
Chicken, roasted red peppers, garlic and spinach topped with mozzarella and drizzled with basil pesto.
Classic Margherita
Fresh mozzarella, all-natural, house-made marinara and basil.